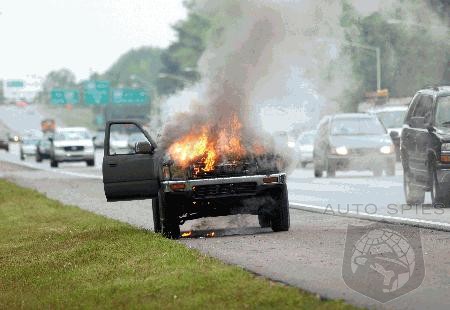 Mucho se está hablando últimamente de los problemas de Toyota y otras marcas/grupos como Honda, GM, Ford, etc con llamadas a revisión masivas. A la gente le da bastante miedo que su coche, por voluntad propia, se lance cual kamikaze contra la pared, o se queme "a lo Bonzo" sin motivo aparente. Esto es una prueba más, de que somos (todos, y me incluyo) unos borregos, a merced de lo que diga nuestro nuevo Dios (TV, media, prensa, llámalo como quieras…).
Llamadas a revisión ha habido muchas, siempre. Y ni son una medida de la calidad de producto de una marca, ni deben ser utilizadas como arma arrojadiza. Además, hacer comparaciones como se están haciendo es muy complicado porque… ¿en qué términos o bajo qué patrones comparamos? Unas marcas venden mucho más que otras, por lo que es normal que una llamada a revisión en GM implique a muchísimos más coches que otra en Subaru.
Aun así, como ahora los medios no deben de tener mucho contenido, o a alguien (he oído GM o Ford?) le interesa desviar la atención sobre sus propios defectos, (por lo visto que los adelantaran como primer productor mundial les hizo mucha pupa), pues nada, a llenar páginas y páginas poniendo a caer de un guindo a Toyota, Honda y compañía.
¡Qué difícil es conseguir que la gente se informe un poco!
En fin, estoy de acuerdo en que las llamadas a revisión son preocupantes y generan alarma, pero démonos cuenta de que están siendo utilizadas como medio de desprestigio masivo. Todos sabemos que no importa si ya se ha demostrado o no, que X personas murieran como consecuencia del defecto Y del coche Z. Muchas llamadas a revisión son PREVENTIVAS, y aunque dicho defecto nunca se haya manifestado en la práctica, y nadie haya sufrido sus consecuencias, el mal ya está hecho: las ventas de dicha marca caerán en picado.
Y no pretendo decir que no haya habido llamadas a revisión muy serias últimamente (y siempre). Muchas marcas juegan a esto del desprestigio (no todas, hay algunas más elegantes que otras), pero lo que está pasando últimamente con Toyota ya me parece de escándalo, máxime cuando son las marcas y medios Americanos las que más se están cebando con las Europeas o Japonesas. ¡Es de coña! Al final va a resultar que un Dodge tiene más calidad y/o tecnología que un Toyota, un BMW o un Volkswagen…
Así que nada, me parece que la única forma de tratar de arrojar luz sobre este tema es recopilar algunas estadísticas de diferentes fuentes. Es importante recalcar que muchas de estas fuentes son Americanas, así que nadie se lance cual Halcón Milenario a mi cuello tildándome de anti-GM o anti-Ford.
Para abrir boca -Las diez mayores llamadas a revisión de la historia Estadounidense-
Esta lista es muy subjetiva, y no tiene mucho valor probatorio de nada, porque clasifica las llamadas a revisión por número de coches afectados. Obviamente, aquí no aparecen marcas pequeñas (si vendes poco, no puedes hacer llamadas a revisión masivas), y además no tiene en cuenta la fecha. Quiero pensar, que no es lo mismo una llamada a revisión de 1970 que una de 2009. Aún así, resulta interesante revisarla:
1st place: Ford, 2008-09 (14.1 million). Peligro de fuego eléctrico por un fallo en el Cruise Control
2nd place: Ford, 1996 (7.9 million). Fallo en el sistema de ignición.
3rd place: GM, 1971 (6.7 million). Sujeciones de motor que se soltaban. El motor caía sobre el cable del acelerador, provocando aceleración máxima en el vehículo
4th place: GM, 1981 (5.8 million). Suspensiones inestables que podían poner en peligro la estabilidad del coche
5th place: Ford, 1972 (4.1 million). Cinturones de seguridad defectuosos que se desenganchaban
6th place: Toyota, 2009 (3.8 million). Alfombrillas defectuosas que podían llegar a atascar el pedal del acelerador (en posición de aceleración)
7 – 9th place: GM, 1973 (3.7 million). Volantes que dejaban de funcionar (no se podía guiar el vehículo)
7 – 9th place: Honda, 1995 (3.7 million). Cinturones de seguridad que se soltaban solos, o que no se soltaban tras un accidente, dejando a la víctima atrapada.
7 – 9th place: Volkswagen, 1972 (3.7 million): A los Beetles se les caían los limpia-parabrisas…
10th position: GM, 2004 (3.6 million): 1999 and 2004, 134 people received minor injuries
¿Vemos quién se lleva la palma no? ¿Por qué entonces en U.S. solo se habla de Toyota? ¿Será porque en los últimos años le comió el pan del morral a G.M. y a Ford?
Llamadas a revisión más importantes en los años 2009 y 2010. Fuente: aqui
Se han eliminado aquellas repetidas, o que implican a un bajo número de vehículos (menos de 50.000). Algunas entradas no especifican número exacto de unidades, sino modelos y "añadas" (ej: BMW Serie 3, años 2007 y 2008). Es de suponer que este último modo implica también muchas unidades, y suponemos que entre éstas estará la llamada masiva de Ford de 14 millones de unidades descrita en la parte anterior.
Mar 2010
Feb 2010
Jan 2010
Dec 2009
Nov 2009
Oct 2009
Sep 2009
Llamadas a revisión más importantes en los años 2007-2009
May 2009: Ford is recalling 605,684 MY 2005-2006 F-150 and Lincoln Mark LT vehicles equipped with 5.4L 3-Valve engines
Jan  2009: Toyota recalls 130,000 Yaris cars in US
Nov 2008: Nissan is recalls 204,361 vehicles
April 2008: Honda recalling 353,000 Accord sedans
April 2008: Hyundai recalling 393,714 Sonata cars
April 2008: GM recalls 122,593 Pontiac Vibe cars
April 2008: Volkswagen Recalls 410,000 Passats
Dec 2007: GM recalls 313,000 vehicles for leak
Dec 2007: Dodge Recalls 600,000 Trucks
Sep 2007: Honda Recalls 182,756 Civics
Aug 2007: Ford recalls 3.6 million vehicles
July 2007: Nissan recalls 140,582 Altimas..air filter
Mar 2007: Chrysler recalls nearly 500,000 vehicles
Mar 2007: Ford Recalls 110,000 Police Vehicles
Feb 2007: Volkswagen recalls nearly 800,000 cars
Estadísticas
Según esa fuente, y si no he contado mal, entre 2007 y la actualidad, estos han sido los números de llamadas a revisión importantes (de más de 50.000 uds, o afectando a uno o varios modelos de uno o varios años), por marcas o grupos:
General Motors: 11
Ford: 8
Nissan: 8
Chrysler: 7
Volkswagen: 4
Honda: 4
Toyota: 4
Hyundai: 3
BMW: 2
Dodge: 1
Subaru: 1
Mercedes: 1
Conclusiones y cosas a tener en cuenta
Todas, y digo TODAS, las marcas llaman a revisión a vehículos. A todas les ha llovido mierda alguna vez, así que ojito con acusar de formas tan vehementes…
Muchas llamadas a revisión son preventivas, así que el hecho de que una marca haga muchas, puede implicar 2 cosas: o tienen mala calidad y la cagan a menudo, o es una marca con gran transparencia y buena respuesta y previsión. En algunos casos será la primera opción, en otros la segunda, y en otros un poco de todo. Tú elijes con cual te quedas.
No todas las llamadas a revisión son iguales. No es lo mismo una cerradura que pierde aceite y mancha la carrocería, que un airbag que no salta, ¿no crees? Para utilizar las llamadas a revisión como arma arrojadiza, y tan a la ligera como algunos medios las están utilizando, habría que hacer un estudio muy muy profundo de la seriedad de los defectos, sus consecuencias, y lo que es más importante: la velocidad a la que fueron detectados, la respuesta que dio la marca para subsanarlos y las consecuencias que tuvieron.
Así que ya sabes, no midas la calidad de una marca solo por el número de llamadas a revisión que hace, infórmate y no te dejes influenciar ni engañar por los medios. Ni a favor ni en contra de nadie.
Un coche se compone de miles y miles de piezas móviles, fabricadas por decenas de empresas diferentes, sometidas a grandes esfuerzos, y que pueden funcionar sin parar durante miles de kilómetros. Demasiado bien funcionan, ¿no crees?
Referencias y más información
Si deseas saber más, google te echará una mano. Aquí tienes algunos links directos: